Stay Safe on the Playground
Playgrounds are a great place to build community and to help keep children active. However, accidental injuries can occur due to falls, hangings, entrapments, strikes by moving parts or sharp points.
Help prevent playground injuries by taking these precautions:
Be cautious of where you install equipment. Separate it from streets, parking lots and other areas with fencing. Do not install it on paved surfaces, grass or dirt. If you have equipment on a paved surface that you can't move, provide shock absorbing mats or surfacing under and around the equipment.
Ensure that the equipment location and spacing allows for the even distribution of children throughout the playground area.
Make sure to firmly anchor the equipment. Install concrete footings at least four inches below grade.
Remove cable ropes, wires and other obstructions between pieces of equipment.
Install slip resistant surfaces on all climbing equipment, gripping and step components.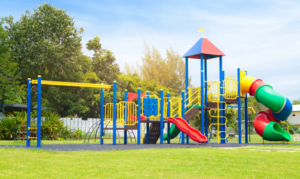 Additional Resources: